The world has changed a great deal since we founded CCMC in September, 2002.
Our first choice of name was Institute For Customer Care. We quickly rebranded as Customer Care Measurement & Consulting.
We started our journey with one client. We've since worked with close to 100.
CCMC's office was in the home of my basement. We now have comfortable office space on the western end of one of America's best hometowns, Alexandria, Virginia, which sits on the doorstep of Washington, DC.
In 2002, my two daughters played with Barbie dolls and my son wore diapers. Today, the clock is ticking on college applications for my first born, and this fall I'll attend final sock hops at the middle and elementary schools for my youngest two.
Two things haven't changed.
The first is our determined but humble effort to make a positive difference in the customer experience that we share as marketplace participants. We continue to believe that listening to and acting on the voice of the customer is essential to creating a better, more profitable customer experience.
The second is the CCMC brand and web site.
When I looked at our first and near eight-year old logo and web site last year, a few observations were top of mind.
Brochure. Static. Out-of-step with who we've grown up to be over the near decade. Unusual colors. Dated.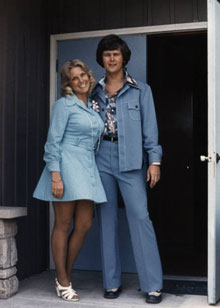 In fact, I hadn't been that uncomfortable with an image since looking at my 1977 high school graduation picture – the one featuring a sky blue leisure suit with super-sized lapels (note to all: that's not me – it's a stock photo).
So, over these past six months, we've labored at remaking our brand and web site.
Truth be told, while the aesthetic transformation has been liberating (like taking off that 1970's leisure suit), the most gratifying aspect of this work has been the opportunity it has afforded us to look in the mirror.
Our new brand and web site represent a genuine effort to share our reflections on who we are as a firm and where we aspire to go in the future.
If you're an existing client, we're looking forward to a long and successful business partnership – one characterized by a commitment to making a difference. If you're just visiting, we hope that you'll think about CCMC the next time you seek a difference maker for improving the customer experience.